Ground Report | New Delhi: Kashmiri Pandit teachers; The Kashmiri Pandit Teachers' Association on Monday strongly criticized the Arvind Kejriwal-led Delhi government for taking credit for regularizing the services of Kashmiri migrant teachers.
"We strongly condemn the statement made by the Delhi government that the services of Kashmiri migrant teachers were regularised," said a statement issued by the Government School Teachers Association (Pravasi).
"It also gave Rs 3,000 monthly to Kashmiri Pandit families living in Delhi," the senior AAP leader said. The AAP leader was speaking on the controversy between AAP and BJP over the film 'The Kashmir Files' in the ongoing session of the Delhi Legislative Assembly.
In a press release, the teachers' body said, "We strongly condemn the statement made by the CM of Delhi that it was the Delhi Govt. Who regularized the services of Kashmiri migrant teachers – here called KMTs."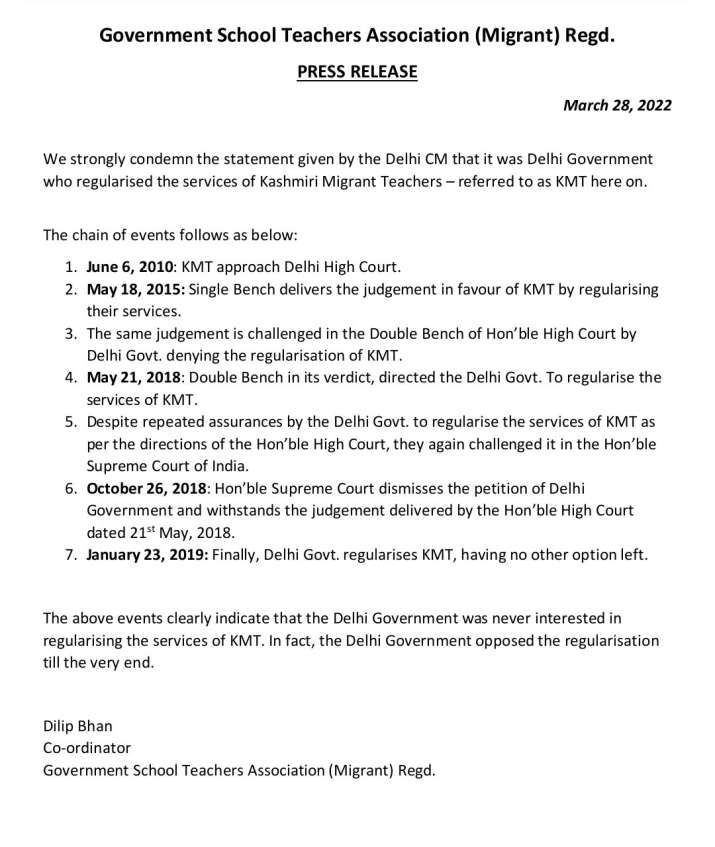 The teachers' body claimed that the Delhi government tried to obstruct their service regularization.
But it was the Delhi HC that ordered the Kejriwal-led government to regularize the teachers. On May 23, 2018, the court directed to regularize over 200 Kashmiri migrant teachers, who have been working on contracts in Delhi government and municipal schools for more than two decades, saying it would be good for society. There was a "sad day" that teachers would have to move. Court for their rightful claim.
"The hope of the petitioners to return to their homes and to peace in the Valley is yet to be achieved, but the acceptance of their claims should act like a balm, rekindling their faith in the society and for equality and equality." Our commitment must be rekindled. Opportunity," observed a bench of Justices S Ravindra Bhat and Deepa Sharma.
"It was in the case of migrant teachers who had to work hard for these 20 years with less than minimum wages, a sad note for the state, which is assured of safety and security of their lives and property in the first place. could not give To make them flee their native state and become refugees in their own way of speaking in their own country," the bench said.
In an interview, Kejriwal claimed that 233 Kashmiri Pandits joined the Delhi government as contract teachers in 1993 and that the AAP government made them "permanent".
Deputy Chief Minister Manish Sisodia said, 'BJP is concerned about files in Kashmir, not Kashmiri Pandits. CM Kejriwal did a lot for Kashmiri Pandits, gave permanent status to 223 teachers even in the absence of documents, streamlined pension system, provided Rs 3000/head per month to Kashmiri Pandits in Delhi.
In the statement, the teachers' body listed a timeline of events that led to regularization of their services in Delhi.
The letter also states that the chain of events clearly indicates that the Delhi government was never interested in regularizing the services of KMT. In fact, the Delhi government opposed regularization till the end.
You can connect with Ground Report on Facebook, Twitter, Instagram, and Whatsapp and Subscribe to our YouTube channel. For suggestions and writeups mail us at GReport2018@gmail.com 
ALSO READ