Carbon dioxide is by far the most significant greenhouse gas emitted by human activities such as commercial agriculture, forestry, and the use of fossil fuels. The high release level of Co2 results in the rising of heat trapped in the earth's atmosphere which is one of the major causes of climate change and deterioration. The majority of countries emit significantly more carbon dioxide than the oceans and plant life on the planet can absorb. These countries are making a significant contribution to the effects of climate change. 
The 2015 Paris Agreement established a global objective to achieve net-zero emissions by the end of the century. A growing number of nations are turning this into a national strategy, outlining plans for a carbon-free future.  It is quickly, establishing grounds and turning into the gold standard for global leadership. More than a hundred nations have allied with the goal of achieving net-zero emissions by 2050. This is a lofty goal that isn't often backed up by concrete actions or evidence on the ground.
However, Bhutan, Suriname and Panama are the only three nations that fall on the list of carbon-negative states.  
Bhutan, which is located in Southern Asia, has been declared carbon-negative for some time, now. Back in the 1970s, they began their journey toward carbon neutrality and beyond by assuring the expansion of sustainable management of forests. Bhutan chose to balance conservation and development rather than tearing down trees for agriculture and industries, resulting in outstanding forest conditions. Bhutan's territory is currently covered with woods and trees to the tune of 72 per cent.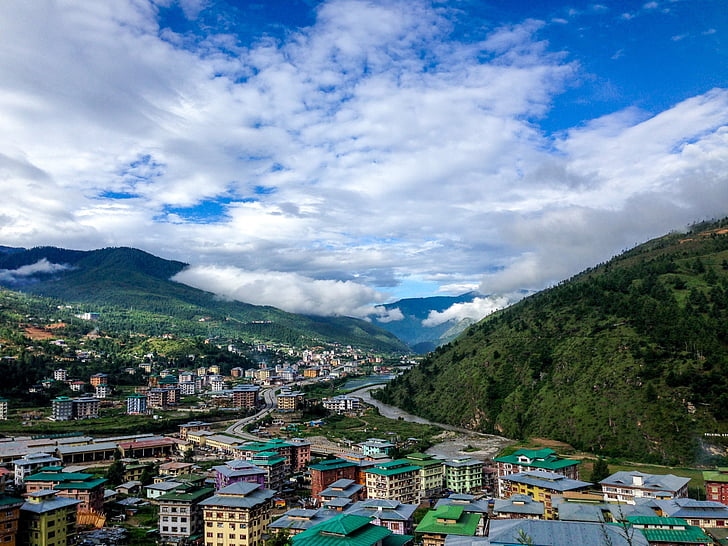 Because Bhutan's political agenda is guided by the GNH index, environmental protection swiftly rose to the top of the priority list. It all started in 2009 during the UN's Fifteenth Conference of the Parties on Climate Change (UN COP 15) in Copenhagen. The member states of the COP announced a commitment to remain carbon neutral for the rest of their lives. Bhutan reaffirmed this commitment at COP 21 in 2016. 
Bhutan achieved the status of carbon negative  in a number of ways: 
Log exports have been prohibited. 
The constitution was changed to ensure that wooded areas did not fall below 60% of the total land area. 
Bhutan's many rivers create free hydroelectric power, which is used rather than less ecologically responsible fossil resources. 
Farmers in rural areas are given free electricity.
Bhutan aims to have zero net greenhouse gas emissions and zero waste by 2030. This entails putting in place a comprehensive action plan that includes things like growing reliance on energy such as biogas, wind and solar electricity.
Suriname is just one of several South American countries famed for its lush woods. Suriname, which has a population of around 600 000 people, has so far been carbon-negative since 2014. The rainforests in this country are still in immaculate condition. Their dense forests cover most of the land and also act as a beneficial carbon sink.  
Suriname is a "high forest cover and low deforestation (HFLD)" country, emitting 0.01 per cent of global GHGs. It is classified as a carbon-negative country because its extensive woods soak more GHG emissions than it produces. Suriname does not have an overall institutional greenhouse gas reduction objective, but it does have targets and measures in place for its largest carbon-intensive sectors, as well as defined conditional targets and a significant focus on natural solutions.
Panama is no different, although its population of four million people is significantly higher compared to the other two. Still, forestry is fundamental to the state. Over 63% of Panama is covered in green and the country is widely known for being a pioneer among South American countries in taking excellent care of its forests. 
The Cordillera de Coiba is an aquatic mountain range that is a true marine gem and a crucial piece of the eastern tropical marine seascape, with a diverse spectrum of marine species. The Cordillera de Coiba protected area, which covers 17,223.52 square kilometres, was designated by the Panamanian government in 2015. Panama extended its marine protected area by 30% in 2021, owing to a presidential decision.
Creating a reserve of almost 67,000 square kilometres, nearly the size of the country, increasing the protection of its maritime regions to 30% and being the second Latin American country to do so under the UN's 30X30 Initiative. Panama hopes to safeguard marine life and ensure the long-term viability of marine resources through this commitment. This programme supports the Paris Agreement's global 30/30 campaign on climate action.
The three carbon-negative countries in the world have similar basic values and beliefs. It all boils down to effective and robust protection of their forests, which absorb so much carbon, as well as responsible and stringent emission controls. These countries have made significant progress in terms of renewable energy legislation and waste reduction strategies, as well as electrifying transportation.
In the COP26 conference held in Glasgow, representatives from Panama, Suriname, and Bhutan called for  "a greater effort and global ambition to achieve the commitments made in the Paris Agreement, in particular, to limit the increase in global average temperature to 1.5 degrees Celsius below pre-industrial levels." These carbon-negative nations are dedicated to hosting forums and establishing spaces for discourse to share best practises in successful environmental conservation, as well as to support and promote other countries pursuing similar goals.
You can connect with Ground Report on Facebook, Twitter, Instagram, and Whatsapp and Subscribe to our YouTube channel. For suggestions and writeups mail us at GReport2018@gmail.com 
ALSO, READ