Ground Report | New Delhi: Waterspout formation Cuban City; Climate change is a real fact now all over the world and we can feel its effects wherever we go. The earth is heating up at alarming rates (1 to 1.5 degrees annually) mainly due to carbon emissions resulting in global warming.
According to NASA's Earth Observatory report published in June 3, 2010, "In the past century alone, the temperature has climbed 0.7 degrees Celsius, roughly ten times faster than the average rate of ice-age-recovery warming. Models predict that Earth will warm between 2 and 6 degrees Celsius in the next century. When global warming has happened at various times in the past two million years, it has taken the planet about 5,000 years to warm 5 degrees. The predicted rate of warming for the next century is at least 20 times faster. This rate of change is extremely unusual."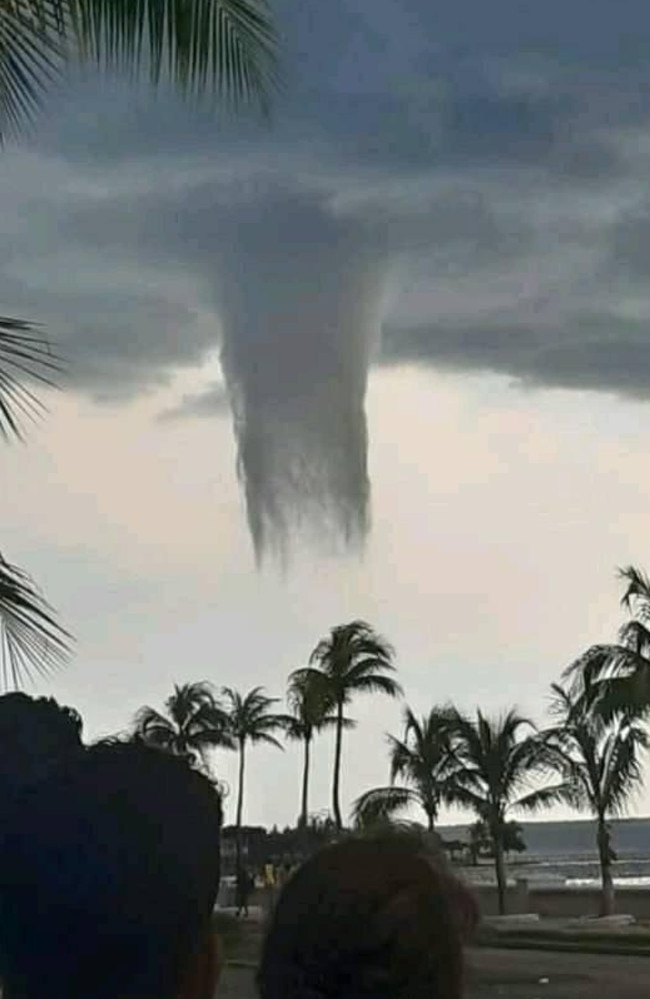 Temperature records from NOAA, NASA, and the University of East Anglia all show an increase from the start of the 20th-century through 2019. The year 2019 counted among the top three warmest years on record.
ALSO READ: What is the Green New deal?
Due to the rapid consumption of resources available at hand, the effects are being very drastic and life threatening . Our existence is at stake. Rising sea and ocean levels and surface temperature is resulting in more cyclonic formations, hurricanes, and low pressure belts all over the world. Both marine life and human life at coastal regions are being heavily affected and is facing extreme existence crisis.
On 18th October, 2021 a huge ominous tornado-like weather event descended over a town near the city of Cienfuegos in South Cuba leaving residents worried about the destruction it might cause. It took place around 5 pm on Saturday Cuba time. News agency Reuters reported that the long lasting and huge waterspout was a "rare" occurrence. Indeed, very few are usually seen around Cuba. However, at least three such waterspouts have now been reported in and around Cienfuegos Bay over the last four months. The spout formed following a day of storms in the area.
According to Bureau of Meteorology senior meteorologist Dean Narramore, waterspouts are extraordinary weather events that have been said to look like "the start of an alien invasion". The spout is a spinning column of air that sucks up water from the sea and twists it connecting the water below and the cloud above. They form when winds blowing in different locations meet and have nowhere else to go but up. (Waterspout formation Cuban City)
"They are spectacular but short-lived, usually lasting no more than five minutes," Mr Narramore wrote in The Conversation. Although this time the waterspout was there for more than 8 minutes.
"Winds inside the waterspout can be faster than 100 kilometres per hour, and they can do great damage to boats at sea.
Waterspouts are in some ways like the tornadoes that form over land. But where tornadoes are associated with huge supercell thunderstorms, waterspouts can form during smaller storms or even just showers or the presence of the right kind of clouds.
ALSO READ: Climate Change and its Effects in West Bengal
Waterspouts rarely come onshore but when they do they can cause severe damage. Records show one such twister hit land at Lennox Head, south of Byron Bay in northern New South Wales, in 2010 and went in to destroy dozens of homes. (Waterspout formation Cuban City)
After the twister's eight-minute life it then descended into the sea and no damage was caused, said the Meteorological Centre.
Similarly, Hurricane Ida a Class 1 hurricane hit Cuba on the 28th of August 2021 with sustained wind speeds reaching 80 miles per hour. After that, it went on to hit the US Gulf coastline. It was reported that Lower than 12 hours after forming, Hurricane Ida handed by means of the Cayman Islands at tropical storm power. By the point it made landfall in Cuba afterward Friday, it had turned out to be a Class 1 hurricane.
After that the storm was within the Caribbean Sea, with Louisiana in its sights. It was said that Ida might strike the state as a Class 4 hurricane — with most sustained winds of practically 140 miles per hour — on Sunday, the sixteenth anniversary of Hurricane Katrina.
Louisiana was additionally battered by a number of storms final 12 months, together with Hurricanes Laura and Delta.
As mentioned earlier analysis over the previous decade has discovered that, on common, such fast intensification of hurricanes is growing, partly as a result of the oceans, which give the vitality for hurricanes, are getting hotter because of human-caused emissions of greenhouse gases.
You can connect with Ground Report on Facebook, Twitter, Instagram, and Whatsapp. For suggestions and writeups mail us at GReport2018@gmail.com