Ground Report | New Delhi: India surpasses USA; The Health Ministry on Monday said that India overtook the US to become one of the top countries in terms of administration of COVID-19 vaccines. Not only this, India is also ahead of Britain, Italy, Germany and France in this matter.
According to health ministry data, India has given 32,36,63,297 doses of vaccine till 8 am on June 28. With India's high population, however, the percentage of vaccinations in the country is comparatively low.
Sharing details about global vaccination efforts, the Health Ministry tweeted, "India achieves another milestone in COVID-19 vaccination and surpasses USA in total vaccine doses." According to the list, India has now overtaken countries including the US, UK, Italy, Germany and France.
ALSO READ: J&K may increase by 25 assembly seats: BJP leader Sonkar Shastri
Here are the figures of some countries including India-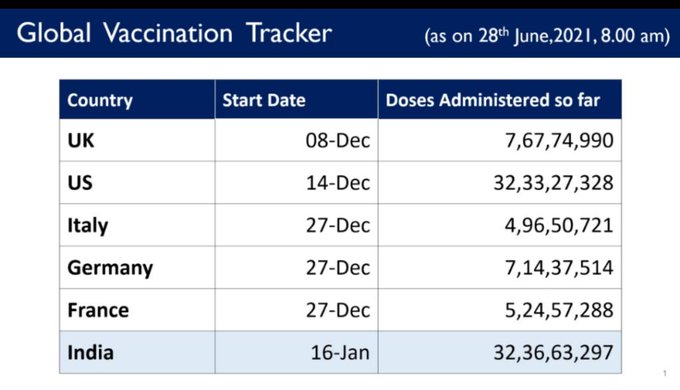 Active cases declined to 5,72,994, comprising 1.89 per cent of the total infections, while the national COVID-19 recovery rate has improved to 96.80 per cent, data updated at 8 am.
The COVID-19 caseload has registered a net decline of 13,409 cases in the 24-hour period.
Also, 15,70,515 tests were conducted on Sunday taking the total cumulative number of tests conducted so far for the detection of COVID-19 in the country to 40,63,71,279.
ALSO READ: Laurel Hubbard First Transgender Athlete to Qualify for Olympics
The daily positivity rate was recorded at 2.94 per cent. It has remained below 5 per cent for 21 consecutive days, the ministry said, adding the weekly positivity rate has come down to 2.81 per cent.
For the 46th consecutive day, the number of people recovering from new cases is increasing continuously. The figures said that the number of people recovering from the disease rose to 2,93,09,607, while the death rate stood at 1.31 per cent.
The number of daily recoveries exceeds the daily new cases for the 46th consecutive day. India's recovery rate has increased to 96.80 percent. The weekly positivity rate has remained below 5%, currently at 2.81% while the daily positivity rate is 2.94%, which is below 5% for 21 consecutive days. The testing capacity has been substantially increased with a total of 40.63 crore tests.
You can connect with Ground Report on Facebook, Twitter, and Whatsapp, and mail us at GReport2018@gmail.com to send us your suggestions and writeups