Ground Report | New Delhi: Arusa Parvaiz on Hijab;  "Wear hijab" wrote one user under the pictures of Arusa Parvaiz. "Dupatta Kahan hai? (Where is your scarf?)", said another comment. Some even wrote long paragraphs criticizing her. Some compared her to Muskan from Karnataka. And others abused her. 
Arusa Parvaiz on Hijab 
Social media is full of comments and pages targeting Arusa for not wearing a hijab. Wherever one sees her pictures, the comment section is full of negativity. Not only this some pages with her pictures have even switched off the comment sections: giving a glimpse of how brutal those comments were. 
Who is Arusa Parvaiz? 
Arusa Parvaiz hails from the Ellahibagh area of Srinagar. She recently secured 499 marks in higher secondary part two, topping the exam. Her pictures and videos taken by different media outlets celebrating her success with her loved ones went viral on social media. And in no time comment section was full of negative comments schooling her for not wearing a hijab.
This comes after the hijab row in Karnataka. And in no time Kashmiri people started comparing her to the Karnatka girl Muskan. Forgetting that the two girls are different, with two different stories. Users hurled abuses at her, her family even some did not even spare her parents and called them out and questioned their upbringing. Arusa was subjected to the most brutal online trolling one can only imagine. 
" Sab theek hai par pehlae koi issae duppatta do yaar… Kaise maa baap ho… Aaj nahi pehna hai iska matlab kabhi nahi pehenti hogi… This is totally disappointing… Upar wala bhi ulta dekh kae hi khushiyan baant raha hai, ( everything is fine but first of all somebody give her a duppatta. What kind of parents are you? She has not worn it today means that she doesn't wear it at all. Even God doesn't see who He is bestowing happiness to)" read one comment. However, this is not about this one comment alone. There are hundreds of thousands of such comments and trolling still is not stopping. 
This young girl who just achieved something for herself was backlashed very badly. Some even called out her for her faith, calling her a non-pious Muslim.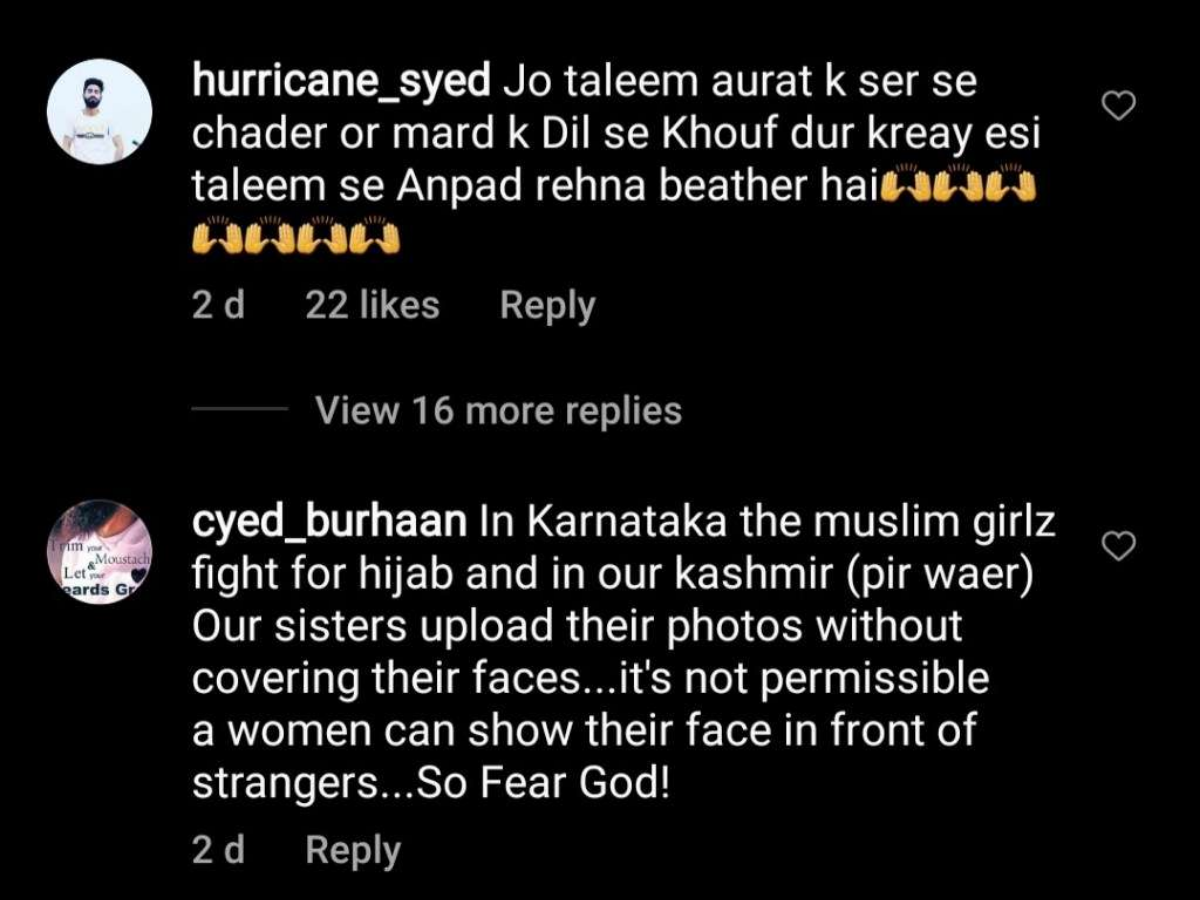 Some comments read, " Sir pae duppatta hota muslim lagti. Lagta hai ye Modi ki beti hae ( if her head was covered she would look like a Muslim but she looks as if she is Modi's daughter), enough to make anyone sad.
However, Arusa recently told some media outlets that the trolls and the negative comments did not bother her. But her parents were deeply disturbed by the comments. She also lamented that not wearing a hijab did not prove her disloyalty towards her religion. She said she was a practising Muslim and planned to wear a hijab whenever she feels she should. She also stressed that her faith could be much stronger than those people who were trolling her adding that she should not be judged on any basis and her space should be respected. 
The unending trolling started immediately after the result was announced and her videos and pictures went viral. Meanwhile, some public figures and influencers from Kashmir poured her with support on their social media platforms. They lashed out at the trollers questioning their upbringing. She was on Saturday felicitated by the Srinagar administration. On one side when people were trolling her some people also supported her. 
"Why is everyone being so judgemental… Why don't we pray and congratulate…how do we know she might be the most beloved to almighty Allah…" wrote one user. Another comment read, "What is wrong with everyone? Why are you being so rude?"  Another user wrote, " Don't know why people are spreading so much hate here… Talking about hijab when they themself are criticizing and insulting a person. How sickening !" 
A girl pursuing her doctorate on the grounds of anonymity told Ground Report, " I think hijab should be a choice. It's not something that can be forced. Our religion can be anything but forceful. And trolling a budding student for the way she dresses will only create a negative image of our religion not just in her mind but in minds of other students as well who are more like her."
She further added, "The fact that she didn't wear hijab isn't just her choice it also reflects the kind of set-up she has been brought up in. Traumatizing her for that like this is not acceptable at all. Also, it's high time the society understands that pinpointing others faults isn't going to help anyone rather we should all be focusing on ourselves first."
This however is not for the first time that women are subjected to online harassment and trolling. In Kashmir, social media has become a space for everyone to troll women for the choices they make. Every woman has been a victim of online harassment at one point or the other. But this case of Arusa just brought this topic to light. 
One student Aalima told Ground Report, "People have no right to judge anyone. Hijab should be a personal choice. No one should be abused for not wearing it. We all are full of sins. We should reflect on ourselves. Maybe she is a better Muslim than us, we never know." 
It is important to mention that online trolling and negative comments can have a great toll on one's mental health. Many people often develop mental health issues owing to these negative comments. 
Seerat Nissar a student of the  University of Kashmir told Ground Report, "Hame ussko usski qamyabi pe congratulate karna chahiye tha. Agar wo bhi nhi kar sakhte the toh mou he band rakhe toh acha hota. Agar insaan acha bhi nhi bol sakhta hai toh bura bhi nhi bolna chahiye, (We should congratulate her on her success. If we cannot even do that then it is better we should keep our mouths shut. If one cannot say good things, one has no right to say anything bad as well)." 
For some people, it has become a hobby, an enjoyable act to troll and harass women online these days. People just sit behind their keyboards and write whatever they want not thinking about how it affects the other person. 
You can connect with Ground Report on Facebook, Twitter, Instagram, and Whatsapp and Subscribe to our YouTube channel. For suggestions and writeups mail us at GReport2018@gmail.com Arusa Parvaiz on Hijab
ALSO READ: IPL Auction Interrupted after Auctioneer Hugh Edmeades falls off
ALSO READ: Who will be the next CM of Uttar Pradesh?