The cold-blooded murder of George Floyd, an unarmed African-American man at the hands of a white police officer in the US has reignited the #BlackLivesMatter movement with people of color coming out and sharing stories of them being subjected to racism.

The racism row has now hit the Indian Premier League, with Darren Sammy, a Saint Lucian cricketer who plays international cricket for West Indies and is also a part of the SunRisers Hyderabad, coming out in the open with allegations of racism against his fellow players.
In a 4-minute-59-second video posted on his Instagram account, Sammy began by talking about how he has played around the world and has embraced all dressing rooms where he has played. He then talks about watching Hasan Minhaj, who in the latest episode of his Netflix show 'Patriot Act', talked about how some Indians address African-Americans.

"So I was listening to Hasan Minhaj as to how some of the people in his culture describe black people, Instantly, I remembered that when I played for SunRisers Hyderabad, in 2013 and 2014, I was being called the same word that he described."

–Darren Sammy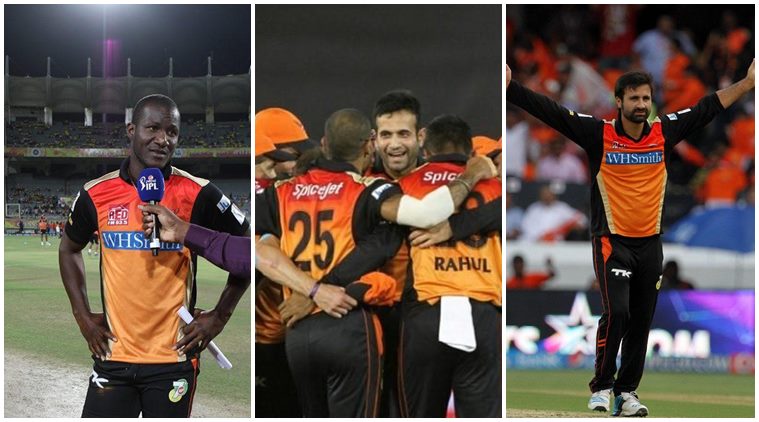 Sammy 's teammates — Irfan Pathan and Parvez Rasool — at SRH from 2014 edition of IPL, however, told indianexpress.com, that they are not aware of any such incident.

"If something like that would have happened then it would have come to notice or a team discussion would have happened on the topic. I am not aware of any such incident and he (Sammy) has to take responsibility for his comments,"

-Irfan Pathan
Rasool also agreed to what Pathan said over the allegation.

"I never noticed anything like this. Sammy was my captain for one match during the season but he never told me anything like that. "As a team, we had a very healthy environment and were a happy bunch of cricketers. Whenever I spoke to him he seemed very jovial and I enjoyed my time with him."

-Parvez Rasool
Irfan Pathan also speaks on Racism
Former India all-rounder Irfan Pathan has said that sometimes players hailing from South India face taunts when they come to northern or western states to play domestic cricket.
His remarks come in the wake of debate around racism in the sport that kickstarted after Windies all-rounder Darren Sammy alleged racism during the 2014 Indian Premier League (IPL).
ALSO READ: ख़ुद को सबसे सभ्य बताने वाले अमेरिका में काला होने पर मौत के घाट उतार दिया जाता है ?
ALSO READ: Why reservation is still necessary to uplift the depressed classes?
In an interaction with ANI, Pathan said that during some first-class matches, there can be some people in the crowd who attempt to create a nuisance just to look funny.
"I have seen that in domestic cricket, some of our brothers who come from South India, when they come to play domestic matches in North or West India, they do sometimes get taunts, generally in first-class matches, you see a smaller crowd and when there is a smaller crowd, there is always one guy who is trying to be a joker, who is trying to be famous, he will just want to direct jibes at players and as a result, he crosses the line," Irfan Pathan told ANI.
"I believe in the society we need to educate everyone, elders and family should teach what is right to say and what's not, we need to value faith and beliefs of others, we can do better by education kids of our generation," he added.
Akash Chopra has also been a victim of Racism
Former India cricketer Aakash Chopra has revealed he was subjected to racism while playing league cricket in England. A day after West Indies all-rounder Darren Sammy expressed his displeasure over a word that was used to refer to him while he was playing the IPL for Sunrisers Hyderabad, Chopra said that he was called a Paki, a term that means much more than just the general notion.
"We (cricketers) at one point or the other, have been victims of racism. I remember when I used to play league cricket in England, there were two South African is one of the opposition teams and both of them really went on an abusive spree. Even when I was at the non-striker's end, they were after my life. They were constantly calling me Paki," Chopra said on his YouTube channel. 
"Now many believe Paki is a short form of Pakistan but that is not true. If you are brown-skinned. If you're anywhere from Asian subcontinent, this term is used to racially abuse. You're called Paki, and nobody likes it. The moment you call anybody Paki in England, you know the intention behind it. That's what happened with me at that time. My team stood by me but the truth is the person in front of me was doing it."
Chopra, who played 10 Tests for India between 2003 and 2004, weighed in on the topic, explaining how deep-rooted the matter is, not just in India but around the world. The former opener insisted it is not something that is exclusive to players from the sub-continent and that even people with fair skin have been subjected to some or the other form of racial slurs.
Written By Radhika Bansal, She is a student of Masters in Journalism and Mass Communication.
You can connect with Ground Report on Facebook, Twitter and Whatsapp, and mail us at GReport2018@gmail.com to send us your suggestions and writeups.