Ground Report | New Delhi: OpIndia trolled badly; Bollywood actor Shah Rukh Khan on Monday gave a heartfelt reply to Indian women's hockey coach Sjoerd Marijne on Twitter after his historic win over Australia at the Tokyo Olympics. The Indian women's hockey team led by Rani Rampal defeated Australia in the Tokyo 2020 quarter-finals to reach the semi-finals for the first time in history.
OpIndia, a right-wing content website carried out an article with the headline Shahrukh Khan tries to hog limelight after Indian women's team entry into Olympics Hockey semifinals, the head coach gives a befitting reply, following this OpIndia trolled on social media.
ALSO READ: Nine-year-old girl raped and forcibly cremated in Delhi
Co-founder of AltNews Pratik Sinha shared a Picture and wrote "Shahrukh Khan, the failed actor whose movies no one watches, in a last-ditch attempt tried to revive his acting career by piggybacking on the success of Indian women's hockey team, but only to be called out by OpIndia who thwarted Shahrukh's evil game plan."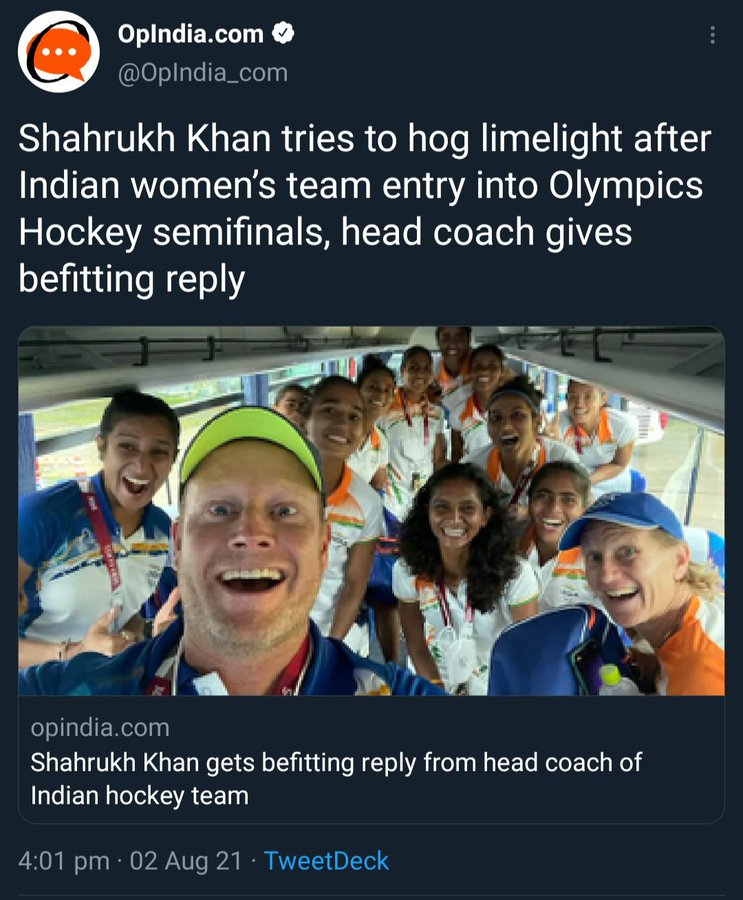 Coach Sjoerd Marijne, who was seen celebrating with his team after the match, posted a picture on Twitter of his staff enjoying the victory on the team bus.
ALSO READ: Video of girl beating young man in Lucknow goes viral
Shah Rukh Khan, who played the role of women's hockey team coach Kabir Khan in the 2007 blockbuster hit 'Chak De India', responded to Marin and requested him to win a gold medal for billions of Indian fans.
"Yeah yes, no problem. Just bring some gold on your way… For the members of an Arab family. This time Dhanteras is also on November 2. Former coach Kabir Khan" wrote the actor.
"Great response to Shah Rukh's tweet by Marin. Thank you for all the support and love. We will give everything back. From: The Real Coach," Marin tweeted.
OpIndia trolled badly
You can connect with Ground Report on Facebook, Twitter and Whatsapp, and mail us at GReport2018@gmail.com to send us your suggestions and writeups.