जम्मू कश्मीर (Jammu And Kashmir Article 370) पर जारी असमंजस पर लगाम लगाते हुए गृह मंत्री अमित शाह ने राज्य सभा में अनुच्छेद 370 हटाने की सिफारिश की। जिस पर राज्यसभा में जमकर हंगामा हुआ। अमित शाह ने कहा कि अनुच्छेद 370 का सिर्फ एक खंड लागू होगा बाकी सब समाप्त कर दिए जाएंगे।
जम्मू कश्मीर को केंद्र शासित प्रदेश बनाया जाएगा। जिसमें दिल्ली की तरह विधानसभा होगी। लद्दाख को अलग केंद्र शासित प्रदेश बनाया जाएगा वहां विधानसभा नहीं होगी। राज्यसभा में इस विषय पर वोटिंग हो सकती है।
बिल पास हुआ तो 7 तारीख को प्रधानमंत्री का देश के नाम संबोधन
कश्मीर से धारा 370 हटाने की लिए राष्ट्रपति की मंजूरी
कैबिनेट की बैठक
कश्मीर हालात पर चल रही लोक कल्याण मार्ग पर कैबिनेट की बैठक समाप्त हो गई है। 11 बजे गृह मंत्री अमित शाह लोकसभा और 12 बजे राज्यसभा को संबोधित करेंगे। कश्मीर को लेकर बड़े ऐलान की संभावना जताई जा रही है।
कश्मीर के बड़े नेता नज़रबंद
कश्मीर में असमंजस की स्थिति के बीच कश्मीर के नेता महबूबा मुफ्ती, उमर अब्दुल्ला और सज्जाद लोन को नजरबंद कर दिया गया है और राज्य में धारा 144 लगा दी गयी है। कि इलाकों में इंटरनेट सेवा भी बंद कर दी गयी है। केबल टीवी और फोन लाइन भी जल्द बैंड कर दी जाएगी। कश्मीर इस समय पूरी तरह ब्लैकआउट की स्थिति में है।
hey (parties who attended the meet) will apprise them (President Ram Nath Kovind and Prime Minister Narendra Modi) of the consequences bound to follow if this continues. Representatives of parties stand united in their struggle to safeguard the special status of the state. I appeal to the people to maintain peace and also request India and Pakistan to not take any step which will bring tensions in the state, Farooq Abdullah said.
After the all-party meet, National Conference president Farooq Abdullah said, "Representative had a meet at my residence on the prevailing political condition and the deployment of security forces. Amarnath Yatra was never stopped in the past."
DM Orders Dealers to Not Sell Petrol, Diesel in Anantnag without Permission | Stating the panic caused by the public during the past few days, the District Magistrate, Anantnag, ordered all petrol dealers of the district to not conduct any sale of Petrol or Diesel without seeking permission from the DM or the officer authorised in the behalf.
After the all-party meet, former J&K chief minister Mehbooba Mufti is leading candlelight protest.
As tensions prevailed in the state, here is an image of the deserted Dal Lake.
President of J&K Peoples Movement Shah Faesal says there is no need to pay heed to rumours.
I am outside Civil Secretariat and as of now the State Flag is flying with all its glory besides the Tricolor.

Dont pay heed to rumors.

#

— Shah Faesal (@shahfaesal) August 4, 2019
Buses laden with sleeping bags and other stock have reached police stations in Kashmir.
Anti-corruption Bureau had issued a letter to PDP leader Mehbooba Mufti asking her to clarify whether appointments were made by Chairman J&K Bank on references of the recommendation of few ministers. Saying that such tactics won't work, Mufti tweeted, "Concerted efforts are being made to browbeat mainstream leaders & thwart potential efforts for a collective response. I am too small an entity vis a vis the cause that unites us today."

"President Trump offered to mediate on Kashmir. This is the time to do so as the situation deteriorates there and along the LoC with new aggressive actions being taken by Indian occupation forces. This has the potential to blow up into a regional crisis," PM Imran Khan said.
Srinagar Mayor Junaid Azim Mattu says an all party meeting is the need of the hour.
The @JKPC_ believes an All Party Meeting is the need of the hour right now. However, Art 35A and Art 370 are primarily mainstream concepts and constructs. Inviting separatists to the meeting will do more harm than good. Their politics is different as are their priorities.

— Junaid Azim Mattu (@Junaid_Mattu) August 4, 2019
Officials in Kargil asked not to leave their stations and keep their mobile phones off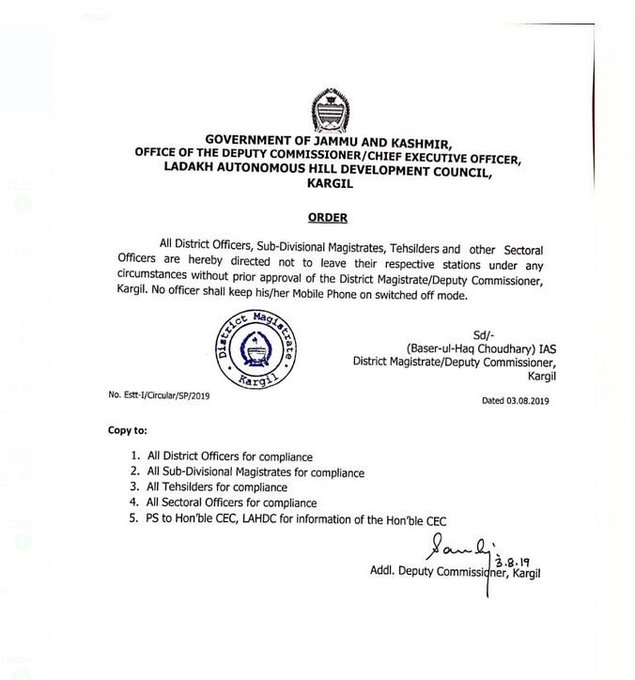 CPI (M) leader Mohammad Yousuf Tarigami, DP (N) chief Ghulam Hassan Mir and PDF chief Hakeem Mohammad Yasin Sunday said the government's decision to deploy additional forces in Kashmir and security advisory issued asking tourists, yatris and outside state students to leave Kashmir immediately, has triggered panic and confusion among people in the Valley.
Amid rumours, students of Islamic University of Science and Technology (IUST) Awantipora Sunday evacuated their hostels and left for their homes.
Zero hour notice given in Rajya Sabha over additional troops in J&K
PDP Rajya Sabha MP Nazir Ahmad Laway has given a zero hour notice in Rajya Sabha for tomorrow over 'deployment of additional troops in Jammu & Kashmir.'
3:32 pm: NIA summons Kashmiri politician engineer Rasheed to Delhi.
3:20 pm: Additional Secretary (J&K Division) Gyanesh Kumar to meet Home Minister Amit Shah.
Additional Secretary (J&K Division) Gyanesh Kumar arrives at the Parliament to meet Union Home Minister Amit Shah.
3:18 pm: Important to assure minority communities living in Kashmir, says Satish Mahaldar
Sectrary general of Kalhana society Satish Mahaldar said that it was important to assure the minority communities living in Kashmir in view of the prevailing tense situation in the valley.
"The government of Jammu and Kashmir is taking specific measures in the valley to secure the place but the security of the minorities still is a matter of concern," he said.
3:16 pm: Airlines agreed to put cap on airfare to and from Srinagar, says Aviation ministry
Ministry of Civil Aviation said in a statement, "Heeding to the advice of Minister Hardeep Puri, airlines have agreed to take steps to put cap on airfare to and from Srinagar. Air India has reduced fares to Rs 6,715 for Srinagar to Delhi flights and Rs 6,899 Delhi to Srinagar till August 15.
"We had made an effort to tell the people of this country and the government about what could be the consequence if they toy with Article 35A and Article 370. We made an appeal too but no assurance has been given yet from the Centre. They are not bothered to say that everything will be alright," says Mehbooba Mufti.
Kahan gayi insaniyat, kashmiriyat aur jamhooriyat, Mehbooba Mufti questions Centre
In a tweet, Mehbooba Mufti said, "Evacuate yatris, tourists, labourers, students & cricketers. Willingly create a sense of panic and distress but don't bother giving Kashmiris a sense of relief or security. Kahan gayi insaniyat, kashmiriyat aur jamhooriyat?"
The meeting was attended by National Security Advisor Ajit Doval, Union Home Secretary Rajiv Gauba and other senior officials
The meeting comes days after Home Ministry initiated heavy troop deployment and the Amarnath yatra was cancelled citing possible militant attack
Amit Shah conducts meeting with top security officials and is believed to have discussed the prevailing situation in Jammu and Kashmir.
Srinagar Mayor Junaid Azim Mattu says an all party meeting is the need of the hour.
Additional Secretary of J&K division is meetng Home Minister Amit Shah in Parliament.
Buses laden with sleeping bags and other stock have reached police stations in Kashmir.
NIT students from Srinagar board a train at the Jammu Railway Station on way to their homes, following a security advisory by the J & K government, in Jammu, Saturday night.
"They did whatever they had to, with separatists. Now they're using tactics against mainstream political parties. When they got hint of an all party meet,Farooq sa'ab was taken to Chandigarh.They're using corruption as tool against political parties,workers being harassed," she further said.
All-party Meet at 6pm Today | An all-party meeting, which will include the National Conference, PDP and others, will be held at 6pm today at former Jammu and Kashmir chief minister Mehbooba Mufti's residence.
Home Minister Amit Shah to introduce Jammu and Kashmir Reservation (Second Amendment) Bill, 2019 in the Rajya Sabha tomorrow. The bill will implement 10% EWS quota in the state.
Ladakh-bound bikers sent back from Kashmir Valley