In First wave of the Covid-19 pandemic India had lost 748 doctors
Ground Report | New Delhi: Indian Medical Association (IMA) has said that India has lost 269 doctors in second wave of Coronavirus pandemic. Bihar saw the maximum number of deaths at 78, followed by Utter Pradesh (37) and Delhi (28).
In Andhra Pradesh 22 doctors lost life followed by Telangana 19, West Bengal 14, Maharashtra 14, Tamil Nadu 11. Followed by Odisha 10, Karnataka 8 Madhya Pradesh 5, Jammu and Kashmir 3, In Assam 3. In Chhattisgarh 3, Gujarat 2 Goa 1, Haryana 2, Kerala 2, Tripura 2, Uttarakhand 2, Pondicherry 1, Unknown 2. In First wave of the Covid-19 pandemic India had lost 748 doctors
ALSO READ: Israel-Palestine Conflict: Kerala woman killed in rocket attack in Israel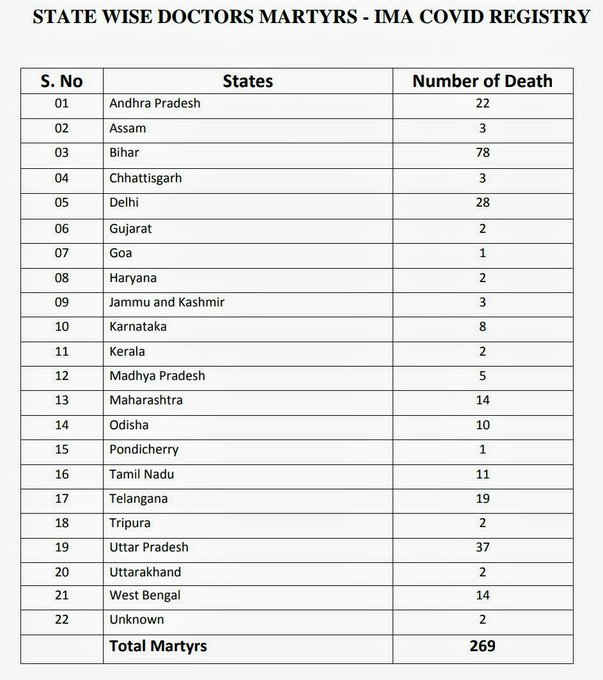 In last 24 hours, 2,63,533 new cases of Corona were reported in the country. This is the second time in a row since April 25 when less than three lakh corona infection reported. A total of 4,329 people died during this period.
With this, the total cases of corona infection in the country have now reached 2,52,28,996. It has 33,53,765 active cases. The death toll from the infection has risen to 2,78,719.
ALSO READ: An application offers to control the life of others
So far, a total of 2,15,96,512 people have been cured after treatment and 18,44,53,149 people have been vaccinated with the corona vaccine. On May 17, 31,82,92,881 samples were corona tested.
62-year-old doctor Agarwal had been infected with Corona for a long time and was undergoing treatment at AIIMS in Delhi died today. He was on ventilator support for the last one week.
You can connect with Ground Report on Facebook, Twitter and Whatsapp, and mail us at GReport2018@gmail.com to send us your suggestions and writeups