Kashmir: Eid is around the corner and Kashmiris have started preparing for the festival. Kashmiris are known for their festivities and culture. Since Eid ul Fitr will be observed in a day Kashmiris have started their preparations.
From cooking wazwan to buying clothes, from cleaning the houses to washing all the utensils, Kashmiris are all geared up to celebrate Eid with great fervour.
Since past one week Kashmiri markets have witnessed a great flow of buyers and people. One of the famous marts located in the Srinagar city V-Mart is full of people who are there to buy clothes and other essentials for the Eid.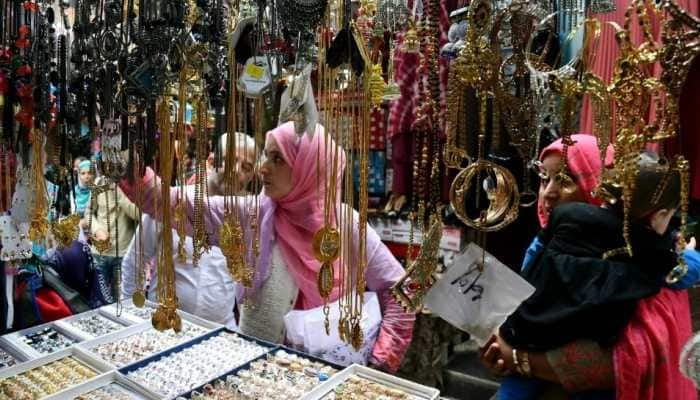 One such buyer a girl talked to Ground Report on the grounds of anonymity. She said, "Its a sale here and you can get like all kinds of styles in clothes. So I came here to buy a dress for my younger sister. But even after the sale these clothes are like really expensive." Adding further, " You see this kurta it says it's for 2500 rupees. Online iss sae sasta milta hai, bohat mehangai hai yahan lekin kya karu Eid hai,( online it does not cost much, everything is really expensive but what can I do Eid is near,)" she said while pointing at a dress in her hands. It took another forty minutes for the girl to pay because of the long line of buyers.
In Kashmir during the time of Eid the markets are in full bloom. Everything and every shop witnesses a great flow of costumers. Even the prices of the items get skyrocketed because of their demand.
Goni Khan market located in the heart of the city witnessed a great inflow of costumers. The rush was as such that their was very less space available for even walking. A shopkeeper who has a dupatta shop located in the market talked to Ground Report, he said, " Yelli Eid che aasaan yetti chunne shah heanas te waar aasaan, be chus duppte kenaan mei che waariya rush aasaan dukaanas yiman duhan. Patmyow treyow wariyow peath ous waariya mushkil wanni shukur rabbas Kun wanni chu soarui theek,( during the times of Eids there is no space to even breathe. I sell duppattas I have a lot of customers these days. Since past three years everything was difficult but now everything is getting fine all thanks to the God)."
Since 2019, after the revocation of Article 370 Kashmiris have celebrated most of their Eids under lockdown, first due to the revocation and then due to the Covid-19. 
Talking to Ground Report a girl in her mid-twenties said, "We cooked almost seven dishes and changed the curtains the matings the bed covers. And I got my dress from the tailor for namaz. I am now going to apply mehandi in my hands. Mae ummeed karti hu ye Eid sab kae liyae baa barkat ho (I hope this Eid be blessed for everyone)."
When the time of Eid is near particularly in Eid-ul-Fitr popularly known as 'choti eid', the non-veg markets witness a great sale. People can be seen buying mutton and chicken for the non-veg dishes. And this increase in the flow of customers also results in the hike in prices.
A woman in her mid-forties told Ground Report, " I washed up the whole house. I cleaned the rooms of my children. Now I am cooking different dishes because I have to keep up with the taste and liking of everyone. My elder daughter likes chicken but does not like yakhni so I have to cook separately for her. But I am happy as long as my children my family is happy. But my daughters do not help with the preparations at all they are only busy with their phones and hum kya pehnaengae (what will we wear?). But I am glad they got tor celebrate this Eid without any hindrance."
Every Kashmiri household right now can be seen preparing for the Eid with energy and happiness. Girls can be seen ironing their dresses and matching jewellery with their outfits and applying mehandi on their hands. Mothers can be seen cooling for the family. Men can be seen confirming the timing for Eid Namaz. Children can be seen buying new toys. Everyone can be seen preparing in their own ways for the occassion of Eid. A huge rush can be seen on mutton shops, bakery shops, sweet shops and other shops of edibles.
Nasir a student, told Ground Report, "The preparations for eid started after shab e qadar, EID-UL-FITIR is special for us as it comes after 30 days of Ramazan, normally we get food and clothes for the children, an environment of happiness and peace is seen around. This day is also to offer our zakat to those who are in need and this is what makes eid special as it is celebrated keep all in mind. This eid we pray for peace and prosperity round the world."
Eid-ul-Fitr is a Muslim festival which is celebrated every year all across the globe. But in Indian subcontinent in particular Eid-ul-Fitr is celebrated with great pomp and show. The day before Eid is known as Chaand Raat and it is also celebrated in Indian subcontinent. Eid-ul-Fitr marks the end of the holy month of Ramadhan.
You can connect with Ground Report on Facebook, Twitter, Instagram, and Whatsapp and Subscribe to our YouTube channel. For suggestions and writeups mail us at GReport2018@gmail.com 
ALSO, READ